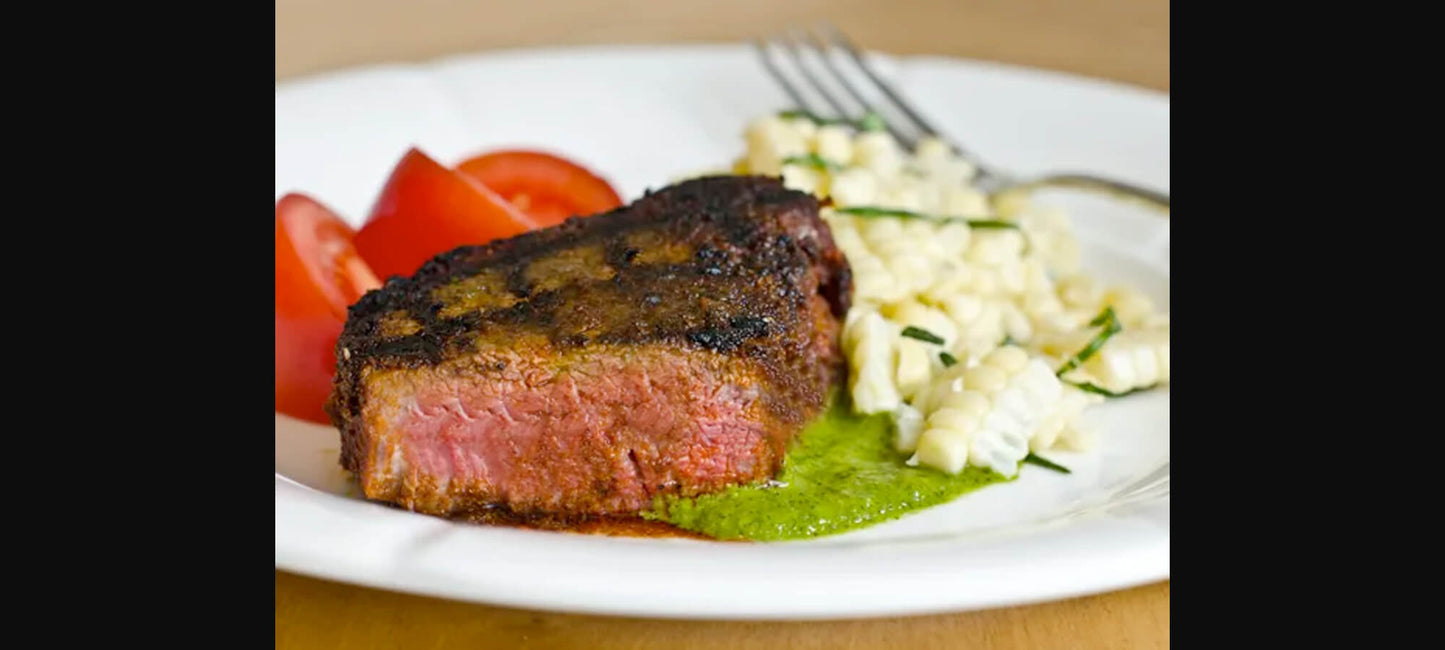 Ingredients
FOR THE SPICE RUB
1½ tablespoons paprika
1½ teaspoons ground cumin
1½ teaspoons ground mustard (also called dry mustard)
1 teaspoon coarsely ground black pepper
1½ teaspoons kosher salt
FOR THE CHIMICHURRI SAUCE
6 tablespoons extra virgin olive oil
1½ tablespoons Sherry wine vinegar (or red wine vinegar)
1½ tablespoons fresh lemon juice, from 1 lemon
2 small garlic cloves, peeled and roughly chopped
1 medium shallot, peeled and roughly chopped
½ teaspoon salt
¼ teaspoon freshly ground black pepper
¼ teaspoon crushed red pepper flakes
1½ cups stemmed fresh parsley
1 cup stemmed fresh cilantro
½ cup stemmed fresh mint
FOR THE BEEF
4 (6-8 ounce) beef tenderloin filets (about 1-inch thick)
2 tablespoons olive oil
Directions
FOR THE SPICE RUB
Combine all of the ingredients in a small bowl and stir until well combined.
FOR THE CHIMICHURRI SAUCE
Combine the olive oil, wine vinegar, lemon juice, garlic cloves, shallot, salt, pepper, red pepper flakes and a third of the herbs in a blender; blend until almost smooth. Add the remaining herbs in two separate additions, puréeing until almost smooth after each addition. Cover and chill until ready to serve.
FOR THE BEEF
Remove the tenderloin filets from the refrigerator and let sit at room temperature for about 30 minutes. Preheat the grill to high (about 600 degrees).
Drizzle the filets with the olive oil and rub until evenly coated. Sprinkle the spice rub all over the filets and pat down with your hands so it sticks (the coating will be thick).
Clean and oil the cooking grate. Place the filets on the grill and cook, covered, about 4 minutes, or until nicely browned and charred on the first side. Flip the steaks and cook 3-4 minutes more for medium-rare. Transfer to a platter, tent with foil and let rest for 5-10 minutes. Serve the filets with chimichurri sauce on the side.
---
← Older post Newer post →