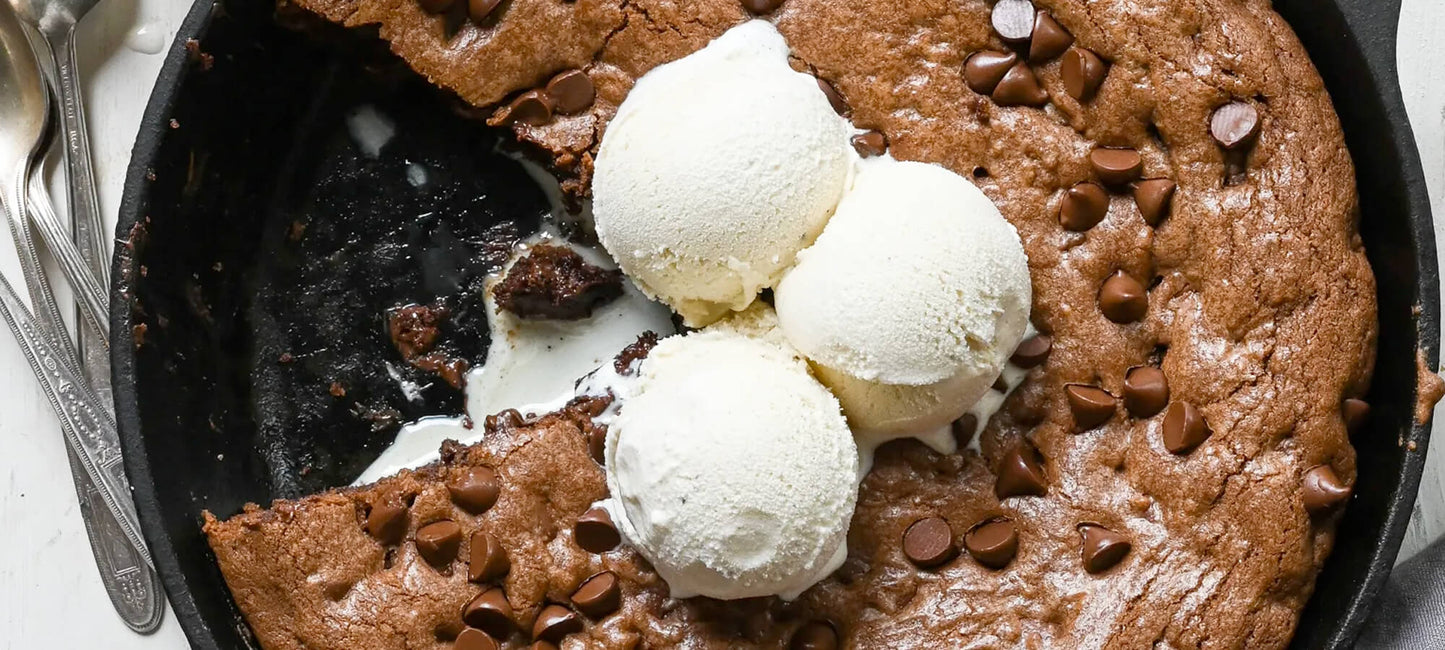 By Jennifer Segal, Adapted from Martha Stewart
Grab some spoons and dig in – this warm and fudgy skillet cookie will delight kids and adults alike.
Servings: 10 to 12
Prep Time: 15 Minutes
Cook Time: 35 Minutes
Total Time: 50 Minutes
Ingredients
1 1/2 (¾ cup) sticks unsalted butter, softened
1 1/2 cups (packed) light-brown sugar
2 large eggs
1 1/2 tsps pure vanilla extract
1 tsp baking soda
3/4 tsp salt
2 cups all-purpose flour, spooned into measuring cup and leveled-off with knife
1/4 cup Dutch-process cocoa powder, sifted
1 1/2 cups cups semisweet chocolate chips
Directions
Preheat the oven to 350°F and set an oven rack in the middle position.
In the bowl of an electric mixer fitted with the paddle attachment or beaters, beat the butter and sugar on medium speed for 3 minutes, or until light and fluffy. Scrape down the sides and bottom of the bowl as necessary. Add the eggs and vanilla, and beat for 2 minutes more. Scrape down the bowl. Add the baking soda and salt and beat briefly until evenly combined. Add the flour and cocoa powder and beat on low speed until evenly combined. Reserve ¼ cup of the chocolate chips and add the rest to the batter. Mix on low speed until the chocolate chips are evenly distributed throughout the dough.
Transfer the batter to an ungreased 10-inch cast iron or ovenproof nonstick skillet (see note); smooth the top with a spatula and sprinkle the reserved chocolate chips over top. Bake until puffy and set, about 35 minutes. Let cool for 15 to 20 minutes, then cut into wedges and serve with ice cream. Alternatively, top the skillet cookie with a few scoops of ice cream and set it on the table with spoons for everyone to dig in. Cover leftovers with aluminum foil and store at room temperature for up to 3 days.
Note: If you don't have a 10-inch cast iron skillet, an oven-safe nonstick skillet will work too, but be careful not to scratch the surface when slicing/serving. You could also use a stainless steel pan lined with parchment paper.
---
← Older post Newer post →